These are the metal sections and wires that the vast majority picture when they hear "BRACES". Thanks to technology braces has evolved to be more smaller and invisible attracting less attention. The heat activated arch-wires uses human body heat to help teeth move more quick and least painful than in the olden days.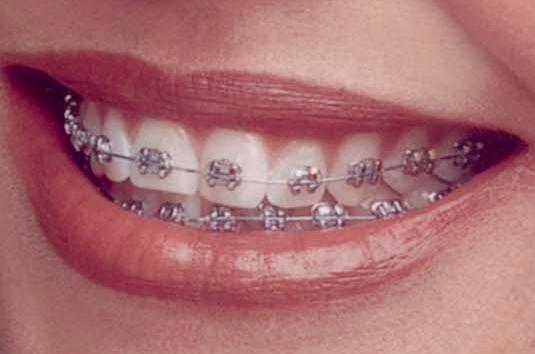 Pros:
a. Cheapest among types of braces.
b. Colored Metal Braces :
Colored options are available to bring out your inner fashion style. Try the braces Color Selector to see which color suits your fashion persona the best.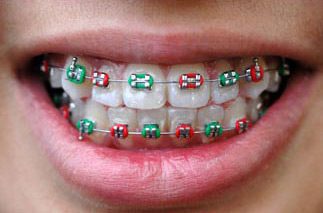 Cons:
Metal braces are the most noticeable among various types of braces available in Orthodontics
Have you ever imagined in your wildest dreams that getting your orthodontic treatment done would be lots of fun?
It's true!!! Metal braces can be lots of fun when you try out the different colors that reflect your personality…!!
The ligatures hold the arch wires to your braces and come in all the colors of the Rainbow.
Colors are cool and you have the option of getting a new one at every visit, so that you can flaunt them proudly to the envy of your friends..!!
Try our Color braces selector to design your own braces with your favourite colors !
Tips from Reputed Orthodontists :
Take pride on the colors of your favorite football team
Show off the colors of your school emblem
Fashion is never complete with your braces matching colors to your outfit
Choose some favorite color that reflects your inner personality
You can choose a color to Support a noble cause!
Otherwise just choose variant rainbow color combinations when you are not able to decide.
Simply choose a real flashy color for Halloween…!!!
Taking care of your metal braces
The difficult part is when you get your metal braces you will want to be careful of what you eat. This lifestyle can continue up to 2 years till you get your braces off. Avoid tough meats, very solid vegetables and especially candy. Say no to chewy things like caramel, gum, etc., that might stick to the metal braces. Hard crunchy foods that might dislodge your metal braces like chips or popcorn need to be avoided. Cut apples into slices. You will get used to it in few days.
Flossing around the wires is tough. Try the alternative named "waterpik" – a jet-water tool which will help to keep your braces clean.
Our Reader Score
Visitor Rated