How do I go for the cheapest braces suited for me? I need the treatment to be perfect too for teeth straightening in Dubai UAE!
When researching for cheap braces in Dubai UAE , each Dental clinic may have different payment plans based on your budget (Read verified reviews & Compare by Clicking Here) and the cost will vary depending on the type of braces and case complexity.
Usually your orthodontist will divide your total treatment cost in monthly affordable payment plan. Braces Insurance are also available in some companies. But since it is considered to be a cosmetic procedure, majority insurance companies do not cover the insurance.
Cheapest braces type is the traditional metal braces. The price of metal braces is a down payment of approximately around AED 3500 followed by a monthly installment that ranges from AED 300 to AED 400. Invisible braces are costlier than the metal braces. At various Orthodontic centers across Dubai UAE the price of  such invisible braces (also called as clear braces) like Invisalign starts at 9000 AED, ceramic braces price starts at 12000 AED. The cost of getting damon braces and eon aligners is around 14000 Dirhams for the complete package.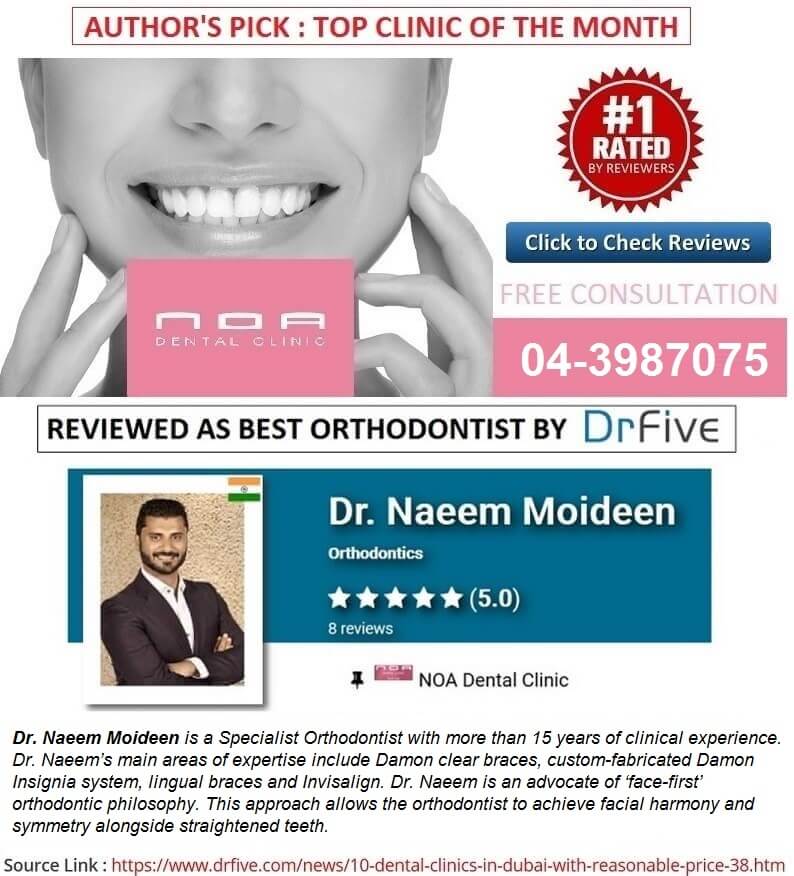 You can find below the details of all the braces type offered by Orthodontic centers and their prices in Dubai, UAE to pick the one most suited for your requirement :
There are several affordable orthodontists available in many areas in and around Dubai and you can read the clinic reviews here and compare the dental clinics so you can choose the Best Orthodontist or Dentist in Dubai UAE for your treatment.

Our Reader Score
Visitor Rated