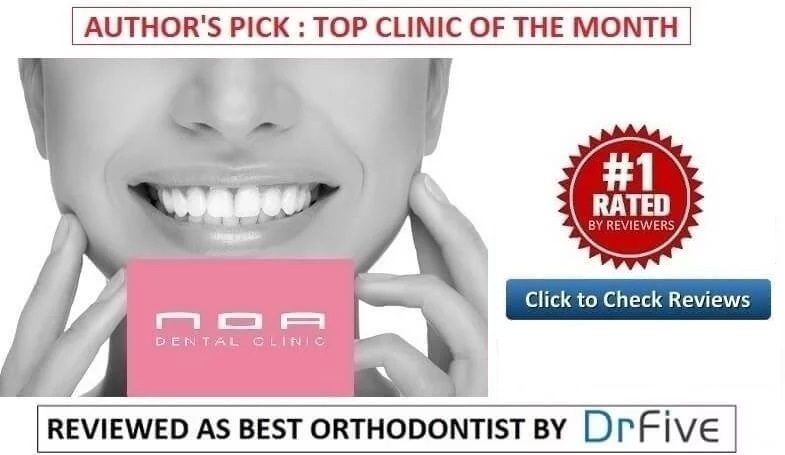 What is Invisalign? Looking for an Authorized Invisalign Center for your teeth in Dubai, UAE? Orthodontist Dubai is here for your Invisalign treatment!
"Invisalign braces are made using clear molds that act as aligners to straighten your teeth. These are clear invisible braces. Invisalign molds are manufactured specifically for your teeth metrics after measuring your impressions and sending them to an invisalign lab. Using the latest digital technology the lab manufactures the clear retainers in just 2 weeks for you. Cost of getting Invisalign braces from various authorized Invisalign center & dental clinics in Dubai ranges from around 10,000 Dirhams and the price can go high up to 20000 AED depending upon the clinic. Read verified reviews here and find the Invisalign provider in Dubai best suited for your needs."

Advantages of Invisalign
The primary advantage of Invisalign aligners is that they are totally invisible and comfortable compared to Metal Braces that contain poking wires and brackets. The number of Invisalign aligners depends on the patient's severity. There may be slight initial discomfort. They are removable but must be worn consistently to achieve the desired results. They can be removed while eating or cleaning your teeth. You can also see the final result video even before your treatment starts.
Invisalign braces are suited only for adults and not for children. Consult with your Orthodontist to see if you are a suitable candidate.

Disadvantages of Invisalign
Since Invisalign is removable correction is based on the patient's habits strictly. They must be worn 22-24 hours a day and must be removed only when eating or cleaning your teeth and should not be misplaced or lost or broken. After the treatment is completed retainers must be worn compulsorily to prevent teeth from shifting back to their original position (It happens if there is gap in between the teeth)

Invisalign process
1. Discuss with your authorized Invisalign Center in Dubai UAE whether Invisalign is suitable for your malocclusion. Most of them are treatable.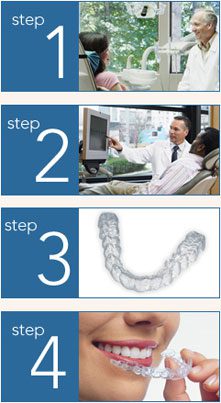 2. If you are a suitable candidate Orthodontist takes impressions of your teeth & does bite registration.
3. You will be shown video of your customized treatment plan. Once you approve the final setup your Orthodontist will give the 'go' for manufacturing of the aligners.
4. You receive your aligners from your doctor and usage instructions. Wear them strictly for 22 hours everyday for the best results.
Want to know how Invisalign works? Watch the below video.

Invisalign Dubai – Everything you need to know :
How do these Invisible Aligners help to straighten your teeth?
While getting Invisalign treatment the specialist orthodontist will supply you a special set of thermoplastic aligners mapped in advance for your teeth which will adjust the current tooth position gradually over time when worn 20 to 22 hours a day (except while eating, brushing, flossing, etc.,). Approximately after 15 days you will have to use the next set of aligners till your teeth becomes perfectly straight. Invisalign controls the force and timing enabling only certain teeth to move periodically as mapped out in advance by the Certified Invisalign provider. You will have scheduled appointments with the specialist every 30 to 45 days during the complete course of your Invisalign treatment.

What is the duration of my Invisalign treatment?
The duration of the treatment depends upon your current teeth position. It takes around 12 months to complete the Invisalign treatment process and get perfectly straight teeth. After treatment completion your dental specialist may suggest using a Vivera retainer to prevent the teeth from shifting their positions.
Am I the right candidate for Invisalign?
For getting an Invisalign treatment in Dubai UAE, you need to pick the best certified Invisalign provider who offers flexible payment plans along with assured results. Contact us to know if you are the right candidate for getting an Invisalign treatment. While contacting please mention your age and if you need to fix an overbite, under-bite, cross-bite, spacing, crowding issues or if you are just looking for general teeth adjustment. People who had already undergone an unsuccessful braces or veneers treatment can also opt for Invisalign after consultation with the specialist. Patients with bridgework cannot undergo Invisalign treatment.
Is Invisalign treatment painful?
No. It is not painful at all. Just a slight discomfort is felt every time you wear a new set of invisible aligners due to the pressure caused upon your teeth.
How do I clean my invisible braces? Are Invisalign maintenance systems available in Dubai UAE?
Invisalign Cleaning systems are readily available with all the certified Invisalign providers in Dubai. You don't have to worry about taking care of your aligners.
Invisalign tips
1. Can I get Invisalign from any dental clinic in Dubai?
No. You need to get it only from a certified Invisalign provider in Dubai UAE. Various Orthodontic centers claim to be awarded as Diamond, platinum providers, etc., But all you need to worry about is whether they are the best authorized & certified provider and if they would provide the treatment at a cheap cost with flexible monthly payment plans and guaranteed results.
2. Will anyone find out if I am wearing Invisalign?
No. No one will be able to tell if you are wearing an Invisalign as it is Invisible braces. However there will be lisping when you speak while wearing an Invisalign.
3. Is Invisalign suited for all people?
No. It is not recommended if you have a major overbite or an under-bite. If your problem is too complex, metal braces are the most suited for you as the duration of Invisalign treatment will increase in such cases. Please take a smile assessment test only with a certified Invisalign provider in Dubai UAE before deciding if it is the right choice for you.
4. Can I drink coffee, wine, etc., while wearing Invisalign?
Tea, coffee, wine, etc., will stain your Invisalign braces. You have to remove them before eating and then brush your teeth before fitting back your Invisalign braces.
5. Can I clean Invisalign with a tooth paste?
No. It is absolutely prohibited as tooth pastes contain abrasive and may cause odor. You need to use an Invisalign cleaning system or soap or a mild detergent
Side effects of Invisalign :
A tiny fraction of people have reported side effects during Invisalign treatment due to allergic reaction. Patients with teeth grinding problem are not suitable candidates for Invisalign as the retainers may get broken and swallowed. Mouth-guards are the solution for such cases. Allergic reaction may lead to Congestion, fatigue and sore throat. Discomfort will be felt initially when wearing a new set of aligners during the course of treatment. In case of any such symptoms please contact the dental clinic at the earliest. Aligners have to be removed before each meal. Brushing & flossing are compulsory after having food. Hence some patients may experience weight-loss because of eating less during the course of treatment.
What is Invisalign Teen?
Invisalign Teen looks just like Invisalign aligners in appearance but it is made specifically for teenagers.
Few differences between Invisalign and Invisalign Teen are :
Invisalign Teen comes with blue indicator dots which fade away after 2 weeks when worn properly. This ensures that your treatment is going in the right track.
Invisalign Teen has eruption tabs which helps in making space for tooth that hasn't completely emerged from below the gums.
Invisalign Teen comes with 6 free replacement aligners for backup use.